With fully fitted kitchens and dining areas with the best supper sea views around, you're probably not going to want to venture far from your cottage. But what's a holiday without a little treat? So, if you fancy hanging up your apron for the evening, then why not book a table at one of the finest restaurants in Pembrokeshire?
There are many delicious spots around the county for you to choose from, but as a quick guide, here's a list of the best restaurants in Pembrokeshire within a 10-mile radius of Atlantic View.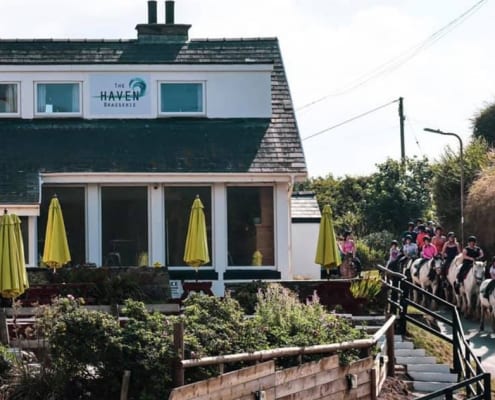 Relaxed beachside dining in the quaint village of Nolton Haven. Offering local Pembrokeshire produce with stunning sea views.
Below is a list with an estimated time it should take to drive or walk there. Taxis can be organised to take and collect.
1. Sunshine Italian, Broad Haven
Telephone number: 01437 781175
Opening times: 10 am – 8:30 pm every day
This beautiful little Italian restaurant, offering traditional, tasty pizza and pasta dishes, is located right on the waterfront at Broad Haven and is one of the best restaurants in Pembrokeshire for delicious dinner by the sea! Enjoy some of their fine wines with only a short stagger home…
2. The Galleon Inn & Sunset Restaurant, Broad Haven
Telephone number: 01437 781157
Opening times: 12 pm – 12:30 am every day
This lovely seaside bar and restaurant offers a wide range of delicious food, with an outstanding seafood menu and plenty of vegan and vegetarian options, too. They also have a lovely coffee bar for a quick visit, or a cheeky early evening cocktail at the bar!
3. Ocean Café Bar & Restaurant, Broad Haven 
Telephone number: 01437 781882
Opening times: 9 am – 11 pm every day during school holidays
Also just a few hundred metres from Atlantic View, this delightful café offers breakfast with a waterfront view, one of the most stunning panoramic ocean views from restaurants in Pembrokeshire, and award-winning ice creams for an afternoon treat!
4. The Swan Inn, Little Haven
Telephone number: 01437 781880
Opening times: 12 pm – 12 am every day during school holidays
This rustic, sailor's seaside inn overlooks the small beachy cove at Little Haven, a 5-minute walk from Atlantic View. Renowned for craft beers, wood-burning stoves and the best Sunday roasts in the West, The Swan Inn is regarded by locals and visitors alike as being one of the best restaurants in Pembrokeshire, and certainly one of the most traditional sailor's inns around these parts.
5. Lobster and Mor, Little Haven 
Telephone number: 01437 781959
Opening times: 10 am – 4 pm every day
This may not quite fit on our list of best restaurants in Pembrokeshire, but this takeaway café and delicatessen serves up the most amazing seafood in North Pembrokeshire, and its crab sandwiches alone deserve a mention! A fantastic catch-of-the-day deli to suit a fantastic fishing village.
6. The Druidstone Hotel, Druidstone
Telephone number: 01437 781221
Opening times: open for dinner from 6pm every day
An 8-minute drive (or 2.5 mile stunning coastal walk) north of Atlantic View brings you to the brilliantly located Druidstone hotel. Their feast nights are varied; from Fish feasts to Jamaican nights and Vietnamese dinners. Overlooking Druidstone beach and normally accompanied by live music, these nights are not to be missed, and it's worth checking their website to see what's available during your stay.
7. The George's Restaurant & Café Bar, Haverfordwest
Telephone number: 01437 766683
Opening times: 10 am – 5:30 pm Monday to Friday, 10 am to 11 pm on Saturday
Only a 15-minute drive away from your accommodation, this colourful café, open for evening meals on Saturday evenings, is by far one of the best restaurants in Pembrokeshire. It's menu is varied, fresh, healthy and imaginative, and the setting, in a quirky Georgian building with gorgeous zen garden, is worth a look! A superb lunch stop while doing some shopping in Haverfordwest.
9. Runwayskiln, Marloes
Telephone number: 01646 636545
Opening times: 8:30 am – 4 pm Tuesday to Sunday in the summer months
7 miles from Atlantic View is one of the trendiest lunch venues in West Wales. National Trust-owned Runwayskiln was formerly a farm and YHA Hostel and is now a fantastic coastal café offering fresh fish, local meat and vibrant veggie and vegan meals. It also has a superb view, overlooking Skokholm Island and Marloes sands.
10. The Saint Brides Inn, Little Haven
Telephone: 01437 781266
Opening times: 11 am – 11 pm, Monday to Sunday
The Saint Brides Inn is popular year-round with visitors and locals alike, as demonstrated by its Trip Advisor Certificate of Excellence from 2015 through to 2019! The food and ambience are superb in this seaside inn, with plenty of choice for vegans, vegetarians and children, too.
11. Pointz Castle Ice Cream, Solva
Telephone number: 07968 096336
Opening times: 11 am – 5 pm
Although it's not a restaurant, it's worth noting that you're only a 20-minute drive to one of the best ice cream shops in Wales. This seaside farm location makes its own ice cream on site from its own milk. Pair that with the coastal walk to a hidden cove on the property, and the iron age roundhouse next to the shop, and there's plenty to see and do while sampling the mouth-watering flavours of ice cream and sorbet on offer. Dessert, anyone?