Places to Visit and Things to Do in Pembrokeshire
If you're looking for things to do in Pembrokeshire during your stay at Atlantic view, the question you need to ask yourselves is: can I fit it all in during my stay?
Despite being at the wildest westerly point in the United Kingdom, there are lots of things to do in Pembrokeshire. This area is a hive of activity during and outside of the holidays. We get some wild weather here, but sometimes that benefits thrill-seekers – just ask the surfers!
Here are some of favourite things to do in Pembrokeshire.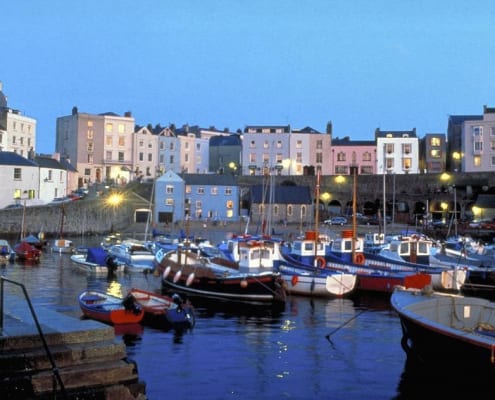 This iconic walled town with its colourfully limewashed captain's cottages is a fantastic seaside day out!
Get in the water
Being a coastal county, we think that one of the best things to do in Pembrokeshire during your stay is to try out one of the many watersports on offer. Pembrokeshire is the home of coasteering; local company TYF Adventure created the sport and now many companies in the area offer this exciting adventure sport. It's a mixture of climbing, cliff jumping and swimming, and all coasteering sessions are done with a professional guide. It's lots of fun!
If you're not so keen on cliff jumping, then why not try the more traditional surfing approach? The obliging Irish sea often stirs up a swell along our sandy beaches. Local company Haven Sports offer surf rental equipment if you'd like to give it a try.
Alternatively, the long flat sands at Broad Haven beach make it the perfect shallow spot for a warm swim when the tide is in over the sand. In every instance, we urge you to check tide times and weather forecasts to keep yourselves safe.
Go Walking 
One of the most popular things to do in Pembrokeshire no matter what time of year is walking the coastal path. A fantastic stretch for a day-long walk is north towards Newgale beach. It takes in several secret beaches not visible from the road and passes the beach waterfall at Druidstone, as well as old coal mine chimneys and rock formations such as the impressive Rickets Head near Nolton Haven.
Alternatively, if you're too tired to walk back to Atlantic View after a ramble up the coastline, then check out the bus times for the Puffin Shuttle. The bus number is 400 and it travels along the coast road from St Davids all the way down to Martin's Haven. You can catch it from outside the Spar shop and Post Office in Broad Haven.
Boat Trips
If you'd rather enjoy life on the open waves, then a boat trip from Martin's Haven is a must! A visit to one of the many beautiful islands off this coast is one for your bucket list but be sure to book in advance as this is one of the most popular things to do in Pembrokeshire and the boats fill up quickly. Visit the puffins on Ramsey island, or the many bird colonies at Skockhold, Skomer and the second largest gannet colony in the world on Grassholm.
St Davids
Your view from Atlantic View is defined by the stunning St Davids peninsula, so why not take a trip to the smallest city in Europe? Visit the famous cathedral of our patron saint and take a walk around the artisan boutique shops and narrow city streets.
There is a myriad of different and varied things to do in Pembrokeshire, so keep an eye on our News Page for updates on events and activities that are happening during your stay.