3 free days out ideas for your Pembrokeshire holidays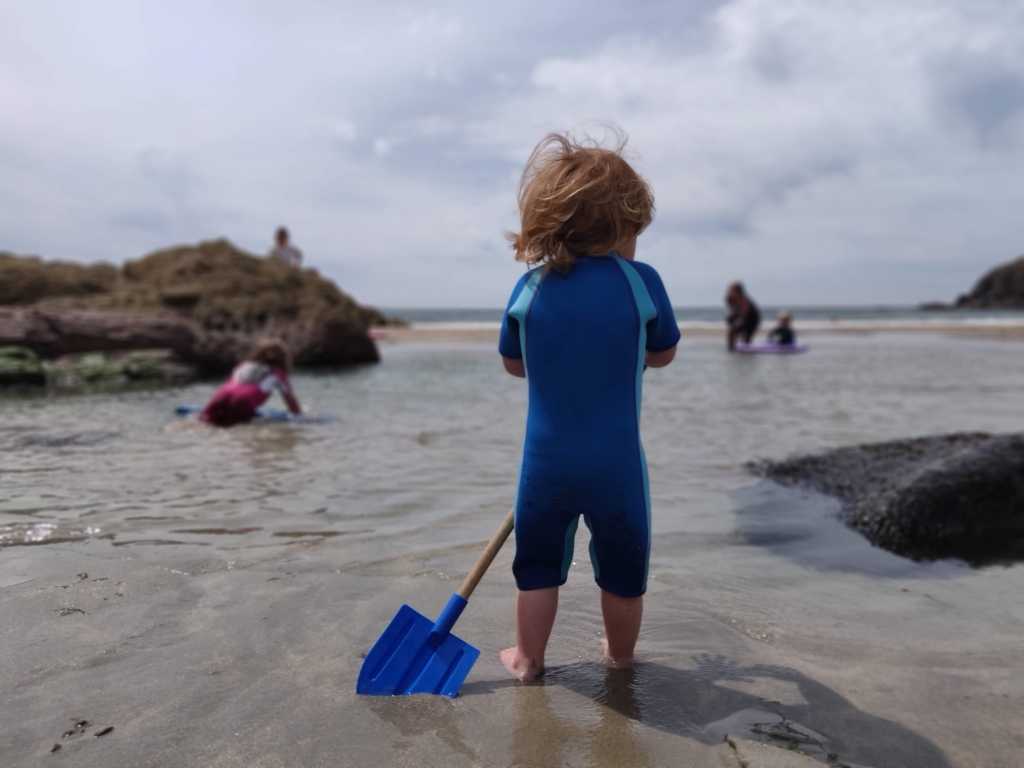 We're delighted to be able to welcome guests from all over the UK back to Atlantic View at long last, and while our stunning coastline, beaches, fresh sea air and the beautiful, bucolic countryside is exactly the same as you last saw it, there are other aspects to your holiday that will be a little different in 2021.  Wales, unlike England, is ruled by a devolved government, and, as such, the rules regarding the lifting of lockdown restrictions are a little different.  This means that some things that you're getting used to doing again in your home country might not be the same here, and, as a result, not all your favourite attractions will be open.
But fear not!  The joy of coming to the wilds of West Wales on your holidays isn't all about being entertained…here, Mother Nature does that for you in many different ways!  So we've put together some free days out ideas that mean that lockdown or no, you and your family can still have an amazing time with us at Broad Haven without spending a fortune on entry fees, relying on odd opening times or doing much, if any, social distancing.
Here are three free days out that we think you'll love – let us know on social media what you tried and what you thought!
Go North for free days out steeped in history
Many of the things that draw people to Pembrokeshire are free – the sea, the mountains, the sense of peace.  A short drive north from your luxury accommodation at Atlantic View takes you to one of the most famous landmarks on its namesake peninsula – the city of St Davids.  This beautiful, tiny city with its cobbled streets and historic architecture, has been officially dubbed Britain's smallest city due to its incredible cathedral, built on the spot of a monastic community founded by St David, patron saint of Wales.  Spend the morning walking around its ancient, twelfth-century walls of local red-grey stone before walking the mile or so towards the coast and the tiny chapel of St Non, erected in memory of the cliffside spot where it is said that, during a terrible storm, Non gave birth to David.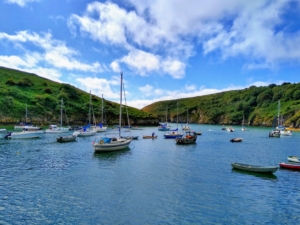 Making your way back down the coast towards Broad Haven, you reach the picture postcard perfect village of Solva.  Known for its colourful harbour full of bobbing boats, mariners cottages and whispers of sailors and great adventures, this is the perfect spot for a takeaway crab sandwich – try to catch your own along the quayside, too!
If you're looking for a sweet treat, then Pointz Castle Ice Cream is a short drive over the hill towards Newgale beach and serves their very own delicious array of ice creams and sorbets made right on site – you can even see the cows who produce the milk while you're there!
Spend the afternoon swimming, sunbathing or take the boogie boards for a surf on the popular pebbly expanse at Newgale, known for being the perfect wave-catching beach in Pembrokeshire, with beautiful views back North along the cragged coast towards St Davids or south, around Lion's Rock back to your home from home at Atlantic View.
Free days out with spectacular views south of Atlantic View
While the northern peninsula visible from your cottage is compact, the coastline running south is a lot more exposed and dramatic, with cliffs falling away to the sea.  A fantastic, safe spot to take the family to appreciate the dramatic beauty of St Bride's Bay is Marloes.  Park in the National Trust car park and take a short walk down the sandy track towards the rocky beach below – a fantastic place to take a net and explore the rock pools, although the tides here can turn quickly so swimming with little ones might not be advisable here.  Nothing to stop you from making a sandcastle or two, though!  Then visit a deer park without deer…yes, that's right.  Along the cliff tops above Marloes are the ramparts of an iron age fort, a spot that, despite the earlier successful and dominant settlement, failed as an established deer park in the early 19th century.  The undisturbed bay below has become a sanctuary for seals, and so the Deer Park at Marloes is now the best grey Atlantic seal-spotting spot in the south of the county.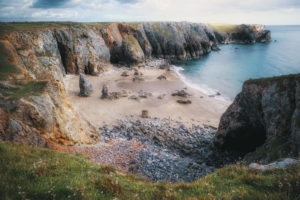 All that sea air is bound to make you hungry, and you're mere minutes away from one of the best lunch spots in West Wales, Runwayskiln.  This delectable coastal cafe is set in a cluster of National Trust farmhouse buildings overlooking the very bay where you've had your morning adventure.  You might want to check whether they're open for takeaways or seated service due to the differing times of lockdown restrictions easing, but whichever way you're able to taste their fantastic lunches, you're in for a treat.  Whether it's cured seatrout, pork and fennel sausages or homemade falafel and hummus, everything here is freshly cooked and locally sourced and makes it one of the most desirable lunch destinations along this coastline.
Make your way southward towards rocky Lindsway bay to walk off your delicious lunch, or take the narrow road to the beautiful seaside hamlet of Dale.  Known for its red stone 13th-century castle, now renovated into a private dwelling, Dale is a beautiful sailing harbour that forms the northern part of the Milford Haven Waterway.  Sitting on the old harbour wall outside the beautiful pub "The Griffin", you can almost imagine Henry Tudor and his men arriving in their ships prior to the Battle of Bosworth as they did in 1485.
Take the Haverfordwest route home, stopping at the popular St Ishmaels garden centre for a stroll among the beautiful flowers and a cup of tea and a slab of cake to tide you over until you circle back to your cottage at Atlantic View.
Free days out right on your cottage doorstep!
Well, you've not booked a gorgeous, award-winning holiday cottage overlooking an award-winning beach on the edge of one of Britain's most famous coastlines for nothing, have you?  The beach is a mere 300 yards from your front door – the perfect excuse for an early morning dip followed by a few hours of drying off, getting your vitamin D fix or finishing that book you've been meaning to read.  The blue-flag beach is the perfect contained space to let the kids run around with a football and build sandcastles, and it's a quick dash up the hill if you've forgotten the suntan lotion!
Your cottage comes with its own BBQ area and pizza oven, so why not whip up a delicious lunch in your private garden area while the kids run the sand off outside?  Take advantage of every amenity provided, including the kitchen area for preparation and the garden furniture for al fresco meals.  Why not visit Lobster and Mor in Little Haven and pick up some fresh fish for lunch?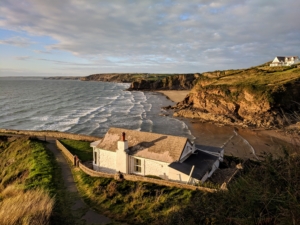 Less than a mile in the other direction from Broad Haven (and visible beyond the old fort behind your cottage) is the delightful small fishing village of Little Haven.  As the name suggests, it's a smaller cove than the sandy stretch outside Atlantic View but has a wonderful walk past the historic Swan Inn that leads to a beautiful vantage point across the whole north of St Brides Bay.  If you're looking for a circular route to help stretch those beach bronzed legs, then follow the coast path signs from this spot until you reach the top of a wooded hill – from here you can walk back down the road at Strawberry Hill and right back into the village, stopping at the St Brides Inn for a refreshing beverage on your way back to your accommodation.
And if all that local beauty has left you pleasantly exhausted, then why not skip the cooking and order a takeaway from one of our fantastic local eateries?  Sunshine Italian is right on the waterfront at Broad Haven and offers delicious, home-cooked Italian dishes, or give Haven Brasserie a call in nearby  Nolton Haven to order one of their fantastic high-quality dishes?
You see, you don't need to spend all your money on activities when you have Mother Nature's playground right on your doorstep, and in this stunning part of Pembrokeshire, there's plenty to see or do without spending a penny!
If you like our suggestions, please share your photos on Facebook and tag @atlanticviewbroadhaven so that we can see how much fun you had on your free days out!
https://www.atlantic-view.co.uk/wp-content/uploads/2021/04/dave-clubb-KI749QOhh7k-unsplash-scaled.jpg
768
1024
Nia Jenkins
https://www.atlantic-view.co.uk/wp-content/uploads/2019/08/Atlantic-View-Draft-Logo.jpg
Nia Jenkins
2021-04-20 14:25:58
2021-04-20 14:25:58
3 free days out ideas for your Pembrokeshire holidays