Here in Pembrokeshire, the only coastal National Park in the UK, we welcome millions of water-loving tourists to our infamous shores every year.  With glorious clifftop cottages, stunning sandy beaches, islands full of rare wildlife on each horizon, and the Irish sea pushing substantial waves towards crowds of eager surfers, you can see why this is such a popular spot for those who love watersports.  Whether you're bringing your dog to explore some of the 186 miles of coastal path that stretches the length of the county or the kids just want to take the bucket, spade, and some sandwiches and explore the rock pools at your favourite sandy cove, the sea is the biggest draw for our guests at Atlantic View.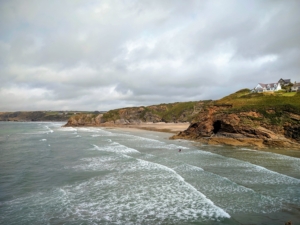 But if you've been following BBC2's popular program 'Saving Lives at Sea', you'll know that time spent on the coast means being at the mercy of Mother Nature.  Thankfully, The Royal National Lifeboat Institute has many thousands of lifeboat stations dotted across the UK's cliffsides, including at Little Haven.
Covering the twin beaches of Little Haven and Broad Haven, this vital lifeboat station started life in a small, sheltered building near the waterway in 1882, just 52 years after Sir William Hillary founded the RNLI in 1824.   Despite a bigger lifeboat station being built in 1903, and a slipway installed on the beach nearby, it was hard to find crew members in such small communities, and the station closed in 1921.
But as watersports grew more popular and tourism began becoming an economic institution in Pembrokeshire, the lifeboat station at Little Haven was reopened in 1967 and named the Little and Broad Haven Lifeboat Station.  It was in this year that the inshore D Class Lifeboat, still a model used by the existing RNLI station, was introduced to Little Haven.  Don't worry, it's not a 50+-year-old boat – the Jack & Edith May, a new D Class d-766 lifeboat was installed at Little and Broad Haven lifeboat station in 2014.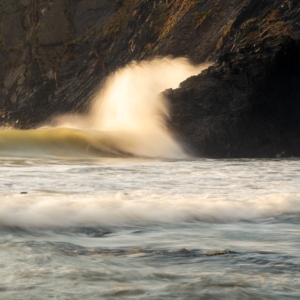 Here in Pembrokeshire, we feel extremely lucky to have the RNLI close by so that we can keep our guests safe and allow us all to enjoy the majesty of the sea.  But our vulnerability to the power of the water and nature itself should not be taken lightly. Our local lifeboat station crew have been presented with four awards for gallantry in recent years, and we should repay those who volunteer to brave dangerous situations to save our lives by showing respect to them and the sea.  As the largest maritime charity in the UK, it is still incredulous that this invaluable service still runs solely on charitable donations.  As well as rescuing on average 23 people per year, the RNLI also provides flood rescue services as well as training and providing equipment to our shoreline's lifeguards.
We urge visitors to Atlantic View to participate in the plethora of watersports available right on the doorstep, including our very own invention, coasteering.  But we ask that you do so carefully, responsibly, and respectfully.
Here are a few links that can help you to stay safe on the water:
https://www.atlantic-view.co.uk/wp-content/uploads/2021/01/alexander-andrews-2O0qZrxET14-unsplash-scaled.jpg
518
1024
Nia Jenkins
https://www.atlantic-view.co.uk/wp-content/uploads/2019/08/Atlantic-View-Draft-Logo.jpg
Nia Jenkins
2021-01-15 12:11:08
2021-01-15 12:11:08
Broad Haven Lifeboat Station: keeping us safe on the sea