With the weather beginning to settle into steady, sunshine-filled days and with lockdown restrictions beginning to ease here in Wales, we thought it was time we let you into the secret best pubs in Pembrokeshire.  Whether you're after a quick pint in the beer garden on the way home from the beach or looking to have a meal (indoors from the 17th May) then these are our favourite establishments around our five-star accommodation for you to enjoy – cheers!
The St Brides Inn, Little Haven
By far our favourite pub for a well-priced, well-pulled pint and a really great pub meal, the St Brides Inn may be tucked around the corner from the sea in the beautiful village of Little Haven, but it has everything going for it – freshly sourced ingredients, home-cooked food, local ales on tap, and the most friendly service in the West.  AND it's only a mile from your accommodation, although it's quite a steep stagger home if you've overindulged!  There's ample outdoor seating nearby or cwtch up in the traditionally decorated interior – a cosy vibe and warm atmosphere make this a really lovely place to spend the evening.
Phone: 01437 781266
The Sloop, Porthgain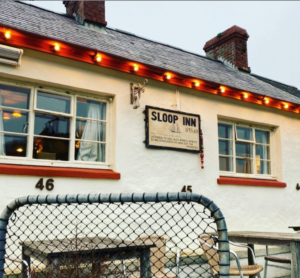 A short drive north takes you to the infamous industrial village of Porthgain, known for the ruins of the slate and brickworks that dominated this tiny inlet for centuries.  Now, it's mostly known for being a stunning fishing port, and for the fresh and delicious food available here.  The Sloop is one of the oldest mariner's inns in Wales, dating back to 1745, and is one of the most characterful places we've ever had a pint, which is why it rightly deserves its place on our list of best pubs in Pembrokeshire.  It also offers an exceedingly good pub menu, often with fresh fish options, great local beverages, and a really beautiful sea view from the outside seating area.
Phone: 01348 831449
The Galleon, Broad Haven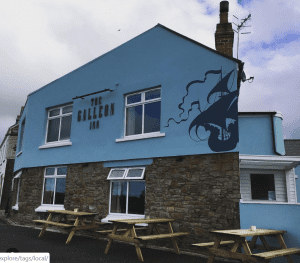 You only have to meander down the hill from your luxurious accommodation to find one of the best pubs in Pembrokeshire – The Galleon is Atlantic View's ' local' and sits at the southern end of the blue-flag beach affording a different perspective out to the Irish sea.  They're known for great beer and outstanding seafood, and it's too conveniently close to your cottage not to pop in – it'd be rude not to!
Phone: 01437 781157
The Stackpole Inn, Bosherston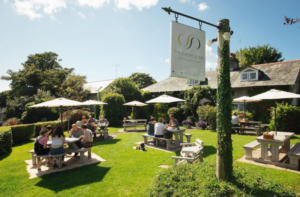 Bosherston lily ponds are a must-visit attraction for anyone visiting Pembrokeshire, and the surprise at the end of the walk is the fantastic Broad Haven South beach.  It's about a half-hour drive from Atlantic View, but well worth the trip.  The bucolic scenery incredible, but this is also home to one of the best pubs in Pembrokeshire – The Stackpole Inn. It's an absolutely delightful 18th-century inn with a solid reputation for incredible food and fantastic customer service. It's hard to get in here during the summer months due to its striking architecture and popularity with foodies, so give them a call – we guarantee you won't be disappointed with this chocolate-box-style inspiring inn!
Phone: 01646 672324
The Swan, Little Haven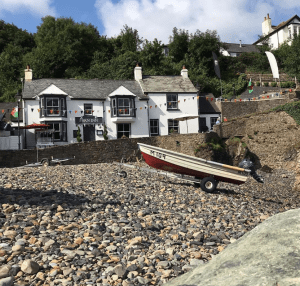 You can't get closer to the sea for a tankard of beer than The Swan.  This stunning whitewashed seaside pub has recently undergone renovations meaning it no longer serves the delicious range of food it was once known for.  It is, however, going to reopen shortly as a pub only, and we're hoping it hasn't lost any of its vernacular charm.  With its position, perched on the cliff above the small cove, we're reckoning it's still one of the best pubs in Pembrokeshire.
Phone: 01437 781880
The Old Sailors, Pwllgwaelod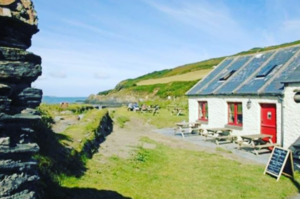 What makes our pubs worth that unique half-hour drive?  Well, we're known along this iconic coast for seafaring adventures, and you can almost hear the mariners and pirates' laughter in the air when you approach The Old Sailors.  The narrow cove of Pwllgwaelod gives way to the tallest cliffs in Pembrokeshire along Dinas Head, and this pub is the perfect pit stop on the way home – the freshly cooked food is excellent, the views from the beer garden back towards the ancient port of Fishguard are spectacular and the bar area looks like it hasn't changed much in several hundred years…it's wonderful.
Phone: 01348 811491
The Dyffryn Arms, Gwaun Valley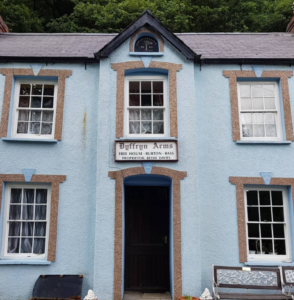 This may seem a bit obscure as it's tucked deep into the valley of rural Pembrokeshire, but this surely deserves the title of not only one of the best pubs in Pembrokeshire, but THE best pub?  Here's why: Known locally as 'Bessies', this pub has been owned by the same family since the 1840s, and is still run by elderly Bessie Davies and her children from a hatch into a barroom in their home in the Gwaun Valley.  Bessie serves bass beer out of jugs to her customers, who range from intrigued tourists to loyal local families who have been drinking beside the fire here for generations.  This is an absolute treasure of a place, like nothing that will ever exist again, and to experience Bessie's hospitality – and sharp tongue for a shrewd lady in her 80s – is a totally unique experience that you must try.
Phone: they don't have one.  Follow the sat nav so far and look out for a blue building alongside an old road.  Think you're lost?  You're probably not far, then…
Pontfaen, Cwm Gwaun, Fishguard SA65 9SE
Please note that due to the popularity of Pembrokeshire as a destination and the pandemic still affecting tourism, we advise that if you like what you read, then to avoid disappointment, please phone and book a table at one of the best pubs in Pembrokeshire!
https://www.atlantic-view.co.uk/wp-content/uploads/2021/05/st-brides.png
619
879
Nia Jenkins
https://www.atlantic-view.co.uk/wp-content/uploads/2019/08/Atlantic-View-Draft-Logo.jpg
Nia Jenkins
2021-05-10 18:25:11
2021-05-10 18:25:11
Some of the best pubs in Pembrokeshire for a relaxing drink by the sea