Why Atlantic View keep being award-winning holiday cottages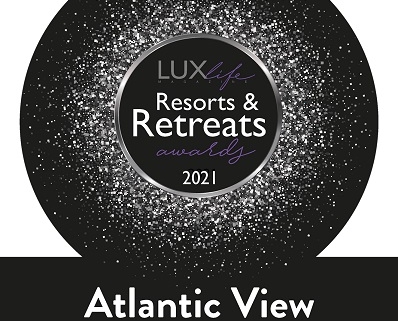 No matter what people tell you, running a business is difficult. It is even scarier when it is a new business venture that you've never tried your hand at before. There are so many things that you have to learn and practice doing. And that is just what Dilwyn and Vel Williams have done – working incredibly hard since they purchased the old bed and breakfast that was Atlantic View to create their award-winning, must-stay cottages.
They found the property when taking aerial pictures on a helicopter ride and immediately fell in love with the plot and its surrounding area. In 2014, work started on the dilapidated buildings to turn them into the high-quality, award-winning holiday cottages that they are today. 
How did Atlantic View become award-winning holiday cottages?
Transforming the run-down building overlooking the magnificent Broad Haven beach was hard work, a challenge that the Williams family saw as a fantastic opportunity. The building had to be knocked down as it was in a state of disrepair, which allowed Dilwyn and Vel to design the award-winning holiday cottages to be exactly how they wanted them. Choosing the layout of each property was crucial to making sure that they made sense and that there was plenty of space for everything that they wanted in the award-winning holiday cottages. 
The Sandpiper, The Penthouse,  Kittiwake and Oystercatcher cottages have all been designed, built, and decorated to an incredibly high standard. The owners have paid attention to every little detail, allowing them to create popular luxurious cottages. All cottages have Melin Tregwynt blankets, extra beach towels, wonderful Myddfai toiletries, and locally sourced breakfast items. These small details make all the difference when staying in award-winning holiday cottages. 
All of the award-winning holiday cottages are always immaculate too, and our guests often say they are amazed at how clean and well kept the properties are. With a great deal of time and effort going into the upkeep of the properties, the most important thing is ensuring that the cleanliness of the properties is always kept at an incredibly high standard. 
What you can do on your luxury holiday at Atlantic View?
The properties overlook the undeniably beautiful Broad Haven Beach, which is only a hop, skip, and a jump away. It only takes five minutes to walk down to the beach, so you don't have to worry about finding a parking space or getting a drink – you're 300 metres from your accommodation!
Atlantic View also has the Pembrokeshire Coast Path right on its doorstep. Exploring the rugged Welsh coastline couldn't be easier with this fabulous, famous footpath right outside. Want to find a different beach? Little Haven beach is just an eight-minute walk on the Pembrokeshire Coast Path. There is a ramp at Little Haven Beach so it is both wheelchair and pushchair accessible. 
Are these luxury cottages family-friendly?
The cottages are perfect for families; Kittiwake and Oystercatcher can even be booked together to create Puffin for larger groups. No matter how big or small your family is, you can all come and stay at Atlantic View's award-winning holiday cottages. With so many beautiful beaches just minutes' walk away from the cottages, there's plenty for the kids to do – crabbing, paddling, watching the wildlife and enjoying being free in the fresh air. The Pembrokeshire Coast Path is just outside the cottages and offers many new and exciting adventures for the whole family. 
Winning another award
Atlantic View has now won another award for Best Luxury Holiday Cottages in Pembrokeshire and LUXlife Hospitality Excellence Award 2021. But that's enough of us telling you that you'll have a fantastic time here…come and see for yourselves! 
https://www.atlantic-view.co.uk/wp-content/uploads/2021/07/LUXlife-Resorts-and-Retreats-2021-Winners-Logo.jpg
433
398
Nia Jenkins
https://www.atlantic-view.co.uk/wp-content/uploads/2019/08/Atlantic-View-Draft-Logo.jpg
Nia Jenkins
2021-07-12 10:59:14
2021-07-12 10:59:14
Why Atlantic View keep being award-winning holiday cottages