Easter Fun in Broad Haven on the Pembrokeshire Coast
Easter Fun in Broad Haven on the Pembrokeshire Coast
It may seem a little like the gloom of winter will never end, but we're fast approaching spring, and here in Pembrokeshire, the daffodils have already begun sprouting!
It's that time of year where we're all longing for the sunshine and colourful vibes of Easter…and there's not long to wait!  With plenty of Easter fun to be had in Broad Haven, we know you'll want to come back again and again to experience an Easter break by the sea.  Here's why:
Easter fun on the water



Pembrokeshire's well known for its water sports, which is not unusual considering it's the only coastal national park in the UK.  In Broad Haven, Haven Sports offer a wide range of water sports equipment for sale or hire to use on the safe sandy beach right outside the doorstep of Atlantic View.  But if you're looking for Easter fun that's arranged for you, why not head up to Porthclais Farm Campsite near St Davids for their Easter Holiday Kayaking and Coasteering event, which takes place on the 9th April?
Easter Fun on the Farm

This is not just any old farm; Folly Farm Adventure Park and Zoo is a great family day out.  It's about a half an hour's drive from Atlantic View, but their Family Easter party is not to be missed! As well as free theatre shows and a resident magician, there's plenty of Easter fun to be had by meeting our resident baby lambs and Easter chick – penguin chicks, too!  And don't forget to visit another special baby animal that's just been born at the Farm…a critically endangered black rhino calf!
Easter Fun with Cadbury

Only a short drive up the beautiful coast from Atlantic View is Southwood Farm, the hosts of one of the many annual Cadbury Easter Egg hunts across the UK.  The Easter Bunny leaves clues all across the blossoming grounds, allowing kids to stomp across this lovely working farm with views across St Bride's Bay.  Bring wellies as things can get muddy down at the farm, but who minds a bit of mud when there's the guarantee of some lovely Cadbury chocolate at the end of it?
Easter Fun your own way

No need to join in with others' activities if you're having too much of a good time yourselves.  After all, it's the peace, wide-open spaces and sea air that attract people to Pembrokeshire, and Broad Haven has sandy stretches and salty air in abundance! It's the perfect place to have some quality time to yourselves.
With plenty of space in your luxury cottages at Atlantic View, why not put the Easter feast in the large oven provided, decorate your family dining table with daffodils and then hide the choccies for you very own Easter egg hunt?
Easter Fun without the washing up

With some lovely eateries dotted all around your accommodation then why not let someone else do the cooking and treat yourself to an Easter meal out?  If chocolate's not your thing, why not try the newly opened Haven Brasserie, a mere 3-mile hop from Broad Haven to neighbouring Nolton Haven.  Their upmarket traditional food has excellent reviews and matching wonderful sea views.
If chocolate and lamb aren't your things, then give Sunshine Italian a try.  Beautiful home-cooked pasta dishes, hand-picked wine and a short stagger home…plenty of Easter fun without the hassle!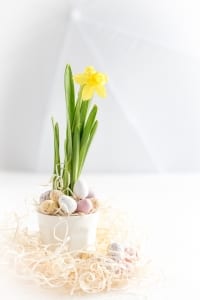 For more ideas on activities to try while at our five-star accommodation, please follow us on social media or visit our regularly updated blog page.  See you soon!
https://www.atlantic-view.co.uk/wp-content/uploads/2020/01/olivia-colacicco-80er5Ijh2dQ-unsplash-scaled.jpg
683
1024
Nia Jenkins
https://www.atlantic-view.co.uk/wp-content/uploads/2019/08/Atlantic-View-Draft-Logo.jpg
Nia Jenkins
2020-01-31 16:34:27
2020-01-31 16:34:27
Easter Fun in Broad Haven on the Pembrokeshire Coast