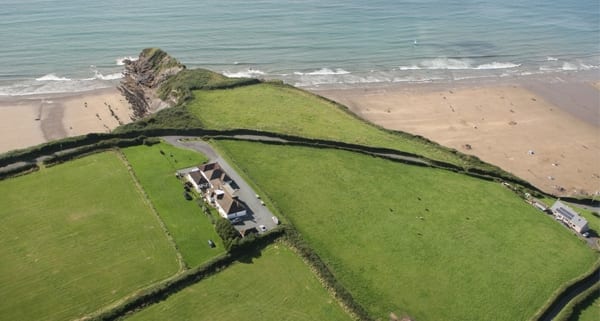 With the uncertainty around Covid starting to lift, along with restrictions, you might be thinking about a nice break away from your four walls this season. And what better place to take in the fresh air and a change of pace than Pembrokeshire, right? Well, we'd like to go one further – we think that Atlantic View is the best place to spend your holiday! With contemporary and cosy family accommodation with stunning views on the most gorgeous coastline, there's so much to love about the cottages that we guarantee that you'll be bringing your loved ones back here for years to come. Here are 5 reasons to holiday right here with us at Atlantic View.
Pembrokeshire Coast Path
It's 186 miles of some of the world's best walking paths and attracts millions of visitors to its cairns and bridges, cliffs and bridleways. Located on the most westerly coast of Wales, within the only coastal national park in the UK, it's known for shipwrecks, puffins, iron age forts, seals, Strumble head lighthouse, porpoise and an array of bright coastal flowers. It's famous for the stunning vistas; the coast path is the jewel in Pembrokeshire's crown. It rightly tops our Top 5 reasons to stay with us. And it's right outside your door! 300 metres from Atlantic View's front door, you can walk northward towards the stunning pebble surfing beach at Newgale, or south towards the beautiful fishing village of Little Haven – take a look at our favourite walks here.
2. Scenery
While we encourage you to get out into the wilds of West Wales and see all the incredible sights, you don't need to leave your accommodation to see some of the most spectacular scenery in North Pembrokeshire. With glass balconies allowing for 190-degree views, or full sweeps from the Penthouse, you're treated to the best of St Bride's Bay from Atlantic View. Your view looks down over beautiful Broad Haven beach, and then your eye finds its way all the way across the southern flank of St Davids Head, with Ramsey island just overlapping beyond. Spot Green Scar and Black Scar, the craggy islands responsible for shipwrecks near the twinkling lights of Solva. Or just gaze out to sea, watching seabirds swoop overhead. We could list all the views that put this firmly in our top 5 reasons to stay here, but we'd rather you find out for yourselves!
3. Above the beach
We weren't telling porkies when we said the views from Atlantic View take in the stunning stretch of golden sand below. We're 300 metres from the beach! There's a small hill to tackle, but it's what allows us to be beachside AND have the incredible vistas. Broad Haven beach is a Blue Flag beach, meaning it adheres to the highest level of cleanliness and safety. It is flanked by cliffs full of rock pools and, when the tide is out, is a great expanse for making sandcastles! If you're into watersports, then Haven Sports can take you surfing when the swell is good. Otherwise, just take the little ones for a paddle, knowing you can pop back to your home from home whenever you like to wash them down and grab some lunch before heading back to the beach. Bliss!
4.
Skyscapes
Yes, the views are amazing, but have you seen the sunsets? No? Then it deserves its place in the top 5 reasons to stay at Atlantic View. Who doesn't like a sunset over the sea? Being this far West means that they're some of the most epic in the UK. And if that wasn't enough, wait until the sun has gone down completely. This area of Wales is within a designated dark sky area. Due to its rural, coastal location, there is very little light pollution. So, if you're a stargazer (and even if you're not), we're going to be bold and bet that you've never seen so many stars in your life..and maybe a UFO or two? And you can see all of this from the comfort of the sofa with a glass of something interesting in your warm accommodation.
5. We're award-winning!
And if all the epic scenery, stunning skyscapes, bucolic beauty and coastal wonder if Pembrokeshire hasn't sold it to you, then here's the final of our 5 reasons to holiday with us this year: we're award-winning! During the last two years, two of the most difficult for the tourism industry, we've scooped two awards. The first was the 2020 SME Enterprise Award for Best Self-Catered Holiday Cottages in Pembrokeshire, and the second was Best Luxury Holiday Cottages in Pembrokeshire and the LUXLife Hospitality Excellence Award 2021. Our four luxury properties come with high-quality amenities and all luxury and comfort for your break away. Every comfort has been thought of, from luxury bedding and Melin Tregwynt throws for a fantastic night's sleep, to Myddfai toiletries for a touch of luxury after your coastal adventures.
Owners Dilwyn and Vel Williams say:
"We've worked hard to do the best for our customers to ensure they have the break they deserve.  Vel and I are looking forward to sharing our luxury holiday cottages and our stunning coastal location with many more guests in the future."
See you soon!
https://www.atlantic-view.co.uk/wp-content/uploads/2019/03/Aerial-View.jpg
387
600
Nia Jenkins
https://www.atlantic-view.co.uk/wp-content/uploads/2019/08/Atlantic-View-Draft-Logo.jpg
Nia Jenkins
2022-03-15 18:32:29
2022-03-15 18:32:29
5 reasons to holiday at Atlantic View in 2022