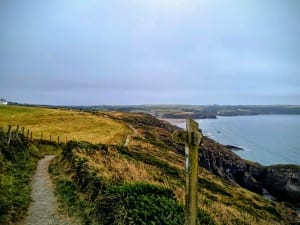 Half term fun during your
holidays in Pembrokeshire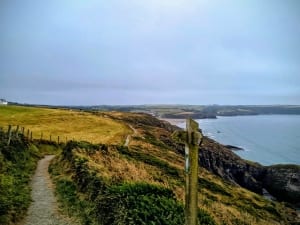 Half term is the perfect time to enjoy holidays in Pembrokeshire.  It's not as crowded as the summer months, and autumn and spring are lovely times to see this stunning coastal county in all its natural glory.  October sees the end of seal season, where you'll find inquisitive young pups bobbing around their pupping beaches, getting used to their human neighbours.  And Easter is when Pembrokeshire emerges from winter with gorse and heather springing from every hedgerow and the red kites put on displays over rolling fields.
Don't just take our word for it, though.  From Atlantic View, there are plenty of fun things for all the family to do during your holidays in Pembrokeshire.  From little ones to not-so-little ones, this picture-perfect area of the UK is packed with activities and adventures.  Here are some for you to try out during your stay with us.
Splash out!
Think the sea might be too cold in October?  Think again!  It's had all summer to roll in and out over hot sand, making October the perfect month to have a swim.  On average, the sea temperature in October is 15 Celcius, which is the same as it would be in June and July.  So, there are no excuses!
Why not try these water activities?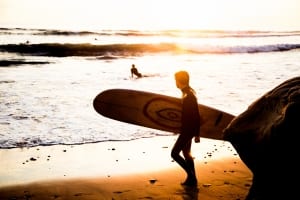 Surfing:
The wild coastline of St Bride's Bay offers fantastic waves and draws surfers from all over the world to its tumultuous shores.  Why not pop into Haven Sports in Broad Haven to hire or buy your family some surfboards and wet suits?  They'll make sure you're well prepared for a splashing time!
If you'd rather have instructors for your wet adventures, then give Dragon Activity Guides a call.  They do everything from surfing lessons on Broad Haven beach to Pembrokeshire's original watersport, coasteering along the cliffs of this stunning coastline.  Suitable for most age groups (coasteering is not for toddlers), these guys also offer a BBQ package so that you can enjoy fresh seafood pulled from the very waters you spent your day in!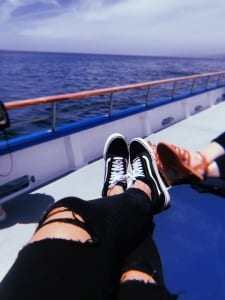 If you'd rather be on the sea than in it, then why not book one of the popular boat trips?  Suitable for all the family, trips leave from St Justinians and St Martin's Haven and traverse the beautiful coastline as well as its popular islands; Skomer, Skokholm and Ramsey, and even out to Grassholm and beyond!  Dale Sailing offer trips from St Martins Haven, south of Atlantic View, whereas if you head north to St Justinians, you'll find multiple operators including Falcon Boats who will take you to visit the seals, porpoise and thousands of sea birds who call these shores home.
One of the biggest advantages of staying at Atlantic View is your proximity to the sea!  You're a mere 300 metres' walk away, giving you plenty of opportunities to dip your toes in the water whenever you like!
Go back in time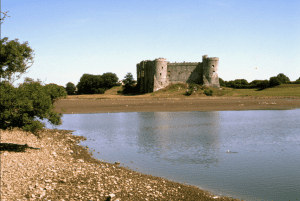 It's not all about the coastline here, although it is dotted with many historical remnants of Pembrokeshire's fascinating past.  You'll notice the undulating ramparts of several iron age forts dotted along the coast path, but if your kids prefer their castles more intact, then there are several great examples to choose from during your holidays in Pembrokeshire!
Carew Castle is a half-hour drive from Atlantic View and is quite a sight to behold.  Sitting on a large tidal millpond, it's open to the public to view its 2,000-year-old ramparts and learn its history hands-on with activities for children such as storytelling and being a knight for the day!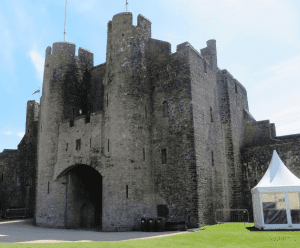 It would be a travesty to come to Pembrokeshire and not visit its most famous castle, the Tudor-dynasty's home castle at Pembroke.  Pembroke castle was built in around 1093, chosen for its defensive position facing the bay at Milford Haven.  But it's most well-known for being the birthplace of Henry Tudor who would later be known as Henry VII.  With guided tours, exhibits and events all year round, Pembroke castle and the surrounding town has plenty to keep the whole family occupied.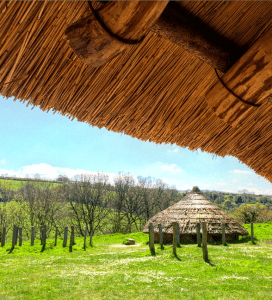 For a more immersive day out, it's worth the 40-minute drive north to the incredible Castell Henllys.  This reconstructed iron age fort sits on the site of an original settlement and is its only kind in Wales.  Travel back in time with interactive exhibitions and talk to Celtic inhabitants who will tell you the history of the roundhouses.  Train as a warrior (complete with warpaint), watch woodmen carve or try your hand at archery – there's so much to do, and with a café on-site, it's all set up for a really fascinating day out.
Get back to nature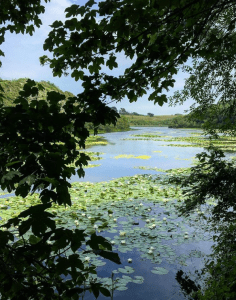 The main reason that people flock to Pembrokeshire is that it's completely unspoiled, leaving you to have wild adventures in one of the most beautiful national parks in the world.
A short drive away from your holiday accommodation you'll find Bosherston Lily Ponds, which are located on the old Stackpole Court estate and are now managed by the National Trust.  The beautiful 2-mile round walk circumnavigates the lakes, taking you out to Broadhaven South beach and back along the nature reserve.  These lakes and walks were created by the Cawdor family in 1760 and are popular with locals and tourists to this day.
If your children are more into Harry Potter than toad on lily pads, then head over to Freshwater West.  You may recognise it as the resting place of Dobby the House Elf – the famous scenes of the sweeping beach and its shell house were filmed here.  This is a fantastic place for a windswept walk, and don't forget to try the famous lobster roll from Café Mor, the most delicious beach food venue in Wales.  It's a must!
And while Pembrokeshire is famous for its stunning coastline, let us now forget about its sturdy spine, the Preseli Hills.  Shrouded in mystery and immortalised in Welsh folklore, these hills are said to be the resting place of King Arthur and are the origin of the bluestone used to construct the outer circle of Stonehenge.  For the best views across Pembrokeshire, why not take a picnic and climb Foel Eryr, its tallest peak, or the fantastically named Angel Mountain, or Carn Ingli, high above the beautiful village of Newport?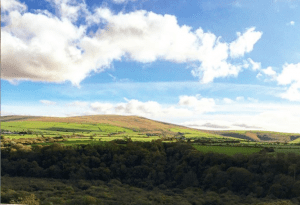 For information about family attractions such as visiting the only giraffes in Wales or one of the tallest wooden rollercoasters in Britain, please take a look at our blog "Five family attractions in Pembrokeshire".  Don't forget to follow us on Facebook too for updates and information to help make your holidays in Pembrokeshire as memorable as possible.
https://www.atlantic-view.co.uk/wp-content/uploads/2022/05/john-mark-strange-0uzJ212BqA-unsplash-300x225-1.jpg
225
300
Nia Jenkins
https://www.atlantic-view.co.uk/wp-content/uploads/2019/08/Atlantic-View-Draft-Logo.jpg
Nia Jenkins
2022-05-30 13:28:05
2022-05-30 13:28:05
Half term fun during your holidays in Pembrokeshire